WE DID OUR RESEARCH AND ASPIRE TO AWAKEN YOU WITH OUR TRUTH AND INSIGHTS
1.  -  Family farms are being taken over by mass-producing franchises.
2. -  Most big-named brands blend different quality matcha from different regions to market it as their own.
3. -  Store-bought bottled green tea has little to no actual nutrients nor antioxidative properties. 
4. -  Regular matcha drinkers have 35%~40% higher metabolic rate than those who don't drink matcha.
5. -  Matcha has 70mg of caffeine, while coffee contains 163mg. (acceptable caffeine intake → 200~300mg/day)
6. -  Samurais drank matcha to keep their minds sharp and energized throughout drawn-out wars 
Different types of Japanese Green Tea
Gyokuro
Jade Drew tea
First harvest leaves only
Shade-grown for 20 days
Steamed, rolled and kneaded
Highest caffeine level
Tencha
Mortared tea
Similar process as Gyokuro
(Main difference: Steamed and rolled, but not kneaded)
Mainly used an ingredient for Matcha
Kabusecha
Covered tea
Between Sencha + Gyokura (quality + taste)
Shade-grown for 5-10 days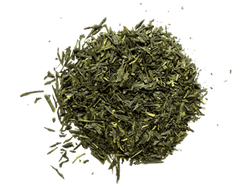 Sencha
Infused tea
Most commonly ingested
Steamed and rolled after harvest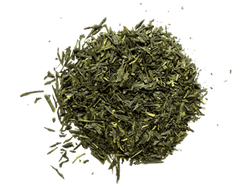 Genmaicha
Brown Rice tea
A blend of roasted brown rice and tea leaves (usually Sencha or Bancha)
Lowest caffeine level
Hojicha
Roasted tea
Roasted tea leaves and stems (usually Kukicha or Bancha)
Lowest caffeine level
Kukicha
Stem tea
Made with remaining twigs and stems (usually Gyokuro or Sencha)
Lower caffeine level
Bancha
Common tea
Third or fourth harvest
Coarser and larger leaves from lower shoots

LOOSE LEAVES vs MATCHA

LOOSE LEAVES and MATCHA come from the same Camellia Sinensis plant, but are completely differentiated from the way it's processed,
to its form of ingestion.

* All of our products, both Loose Leaves and Matcha, are certified :
Organic | Non-GMO | Vegan | Gluten-Free | JAS
The Challenge:
CAN YOU DISCOVER ANYTHING AS PURE AND BENEFIT-PACKED AS OURS?
We visited multiple farms while looking to source our matcha, until we found a farmer that cared as much about the product he was creating as we do. As one of our five core values states, Purity - we strive to provide only the highest quality matcha on the market. That having been said, we always enjoy finding other brands that care just as much about providing high quality products, which is why we invite you to share them with us!